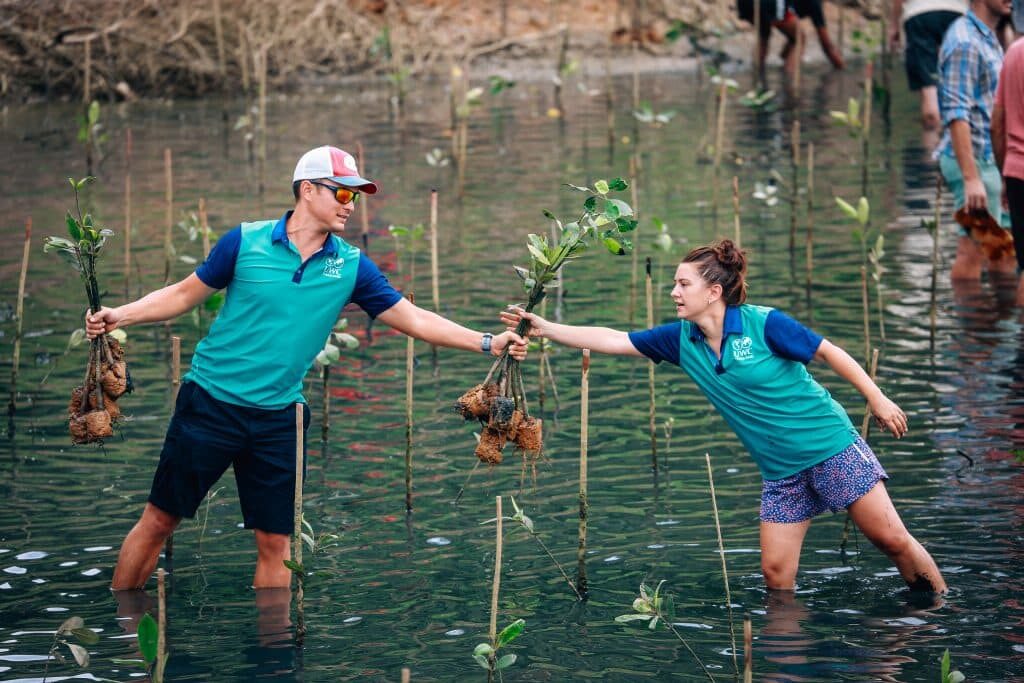 Overview
Mangrove Reforestation Project
Students of all ages work in partnership with Department of Marine and Coastal Resources in replanting mangrove trees to repopulate mangrove forests and increase biodiversity in Phuket. 
Mangrove forests are essential for tropical marine areas because they help create a biodiverse environment and protect the coastline. In addition, mangrove forests sequester a large amount of carbon and trap pollution, which would end up in our oceans. Mangrove forests in Phuket were once cut down for beachfront property, charcoal production and shrimp farming but UWC Thailand is excited to be part of the reforestation and afforestation efforts. To support these efforts, UWC Thailand has established a Mangrove Restoration Centre on our campus which allows the entire school community to be part of our mission-aligned activities to promote sustainability and student agency. 
With the mangrove nursery on campus, students learn about the preparation process of collecting pods and growing them before they're old enough to be replanted in the mangrove forests. The collection of mangrove pods for our nursery is integrated into our weekly beach cleaning activities. Along with mangrove seedlings from our nursery, many other seedlings are brought to us by the Phuket Department of Marine and Coastal Resources (DMCR) and from other nurseries in the local area. 
When the mangrove seedlings are large enough to plant, we work with the DMCR to choose and prepare the relevant site along the coastline. These planting outings are almost a "rite-of-passage" for our community, as they are truly a bonding experience with both nature and ourselves. Our students plant between 500 and 1,000 seedlings during each planting trip. Since 2015, members of our community have planted around 20,000 seedlings around Phuket.