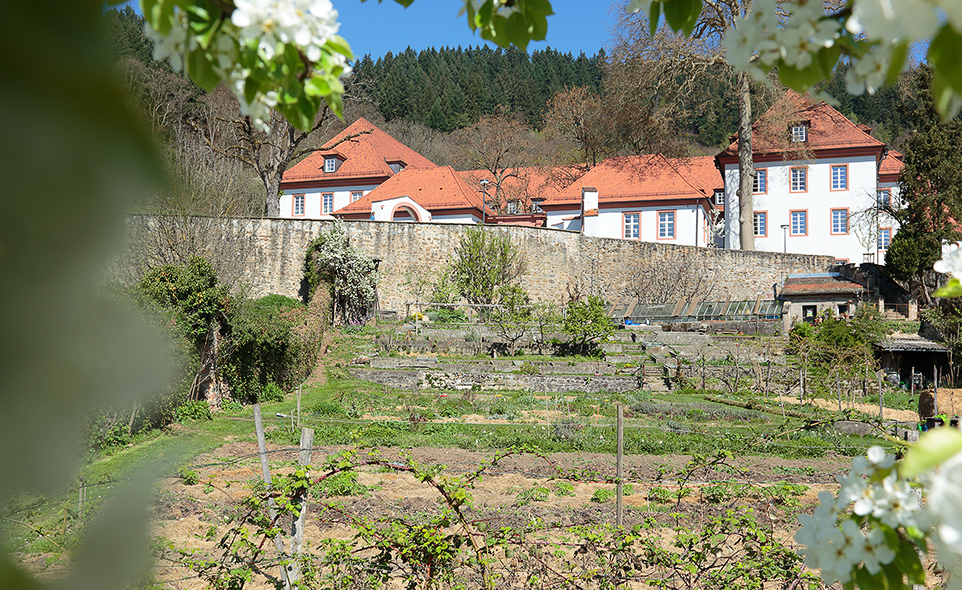 Overview
School Garden at the heart of RBC's sustainability concept
The former monastery garden of the Freiburg Charterhouse is, in many ways, the heart of our school and an important part of the school's sustainability concept.
Officially designated as a school garden in 2016, the site offers students the opportunity to learn basic organic gardening and is firmly integrated into the curriculum. Together with four groups of students, the UWC garden teachers work in and around the garden both in summer and in winter, digging, sowing, cutting branches or planting trees. In addition to the approximately 400 crops, since September 2018 the area has also been home to a self-made clay oven for baking bread and pizza and has a corner for bees, ducks and chickens.
Historical learning place
The former kitchen garden of the Carthusian monks lies below the school building. A high stone wall protects the 2,000 square meters of garden area, which includes a greenhouse, cold frames and a classic four-field layout with crossroads and central little pool. This area has remained unchanged in size and location for over 600 years, serving its changing owners – Carthusian monks, aristocrats, residents of the retirement home, private families and UWC – as a self-provisioning garden. The management has been carried out biologically since 1992, until 2014 in certified form. In our garden, we grow a large variety of crops of old and forgotten varieties, and also do seed extraction. Thus, for example, the cultivation of the medicinal plant Angelica (angelica archangelica) was revived, having already been traded as an "export hit" at the time of the Carthusian monks.
Plant Diversity Today
Since 2015, UWC Robert Bosch College and the garden have been partner of the organization Pro Specie Rara. The foundation is committed to the cultural-historical and genetic diversity of plants and animals. Due to its large variety of crops, the monastery garden offers ideal conditions for endangered species. At the moment, more than 60 varieties of tomatoes are growing in our garden. Once a year, they are offered to the public at Freiburg's "Tomato Exchange". Furthermore, we are part of a research project called "1000 Gärten" by the company Taifun, which is interested in the cultivation of soybean plants for the production of tofu in Germany. At regular intervals, Pro Specie Rara offers events at the college, such as the yearly meeting of the "Preservers of Variety Club".
"I grew up in the neighbouring forester's lodge. I have been taking care of the garden for many years and am now responsible as a garden pedagogue at the UWC for passing this knowledge on to 200 curious students from all over the world. What particularly pleases me is the exchange between the students and the garden volunteers from Freiburg: this helper team has existed for many years, every Friday they work together with the kids and take care of our beautiful garden even during school holidays. The program is a bridge into the city."
Eva Schüle, UWC RBC Head Garden Pedagogue