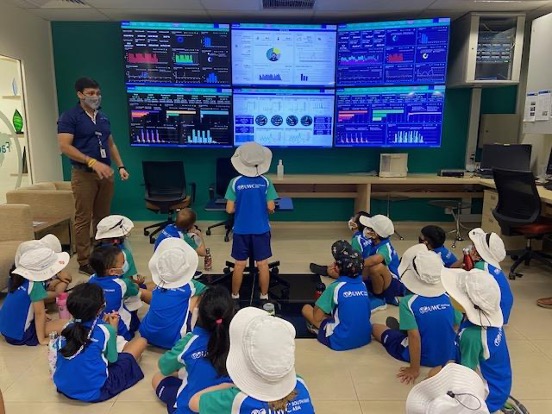 Overview
UWCSEA: Partnership between education and operations – starting from great data!
Our facilities team have developed a digital system that collates and visualises data as a result of an operational desire for an even greater analysis of our efficiencies as a Platinum (Super Low Energy) Green Mark Award. Once the data system was up and running, and the live data visible, the team knew that there were wonderful opportunities for students to be engaged with our campus in a completely new way and for the data to be able to influence our behaviours as a community.
Students, teachers and our facilities team have consequently been engaged with both the front and back end of the system, learning not only knowledge and concepts but how they are applicable and matter in a real context – the very community we learn, work and play in every day.
Some of the ways that our students are connecting to the way the school operates (and therefore our behaviours) through the data dashboard are: 
Grade 3 – Systems thinking

Grade 4 – Different ways of representing mathematical data

Grade 5 – Analysis of energy data from our solar panels, as well as the student groups who are exploring Sustainable Cities for their Exhibition 

Grade 11/12 Computer Science – industrial automation and hands-on testbed experience

Service Group, Journey to Net Zero – exploring a more sustainable future
Students are able to see, for example, how our water and electricity utilisation can be tracked, and ask questions about the comparisons and contrasts of utilisation between different blocks of the school, times of the day, data anomalies and so on. Other schools and organisations have been in touch with us to learn about the system. We are proud of this innovation from our facilities staff and the way they have integrated their work with our students' learning, to understand how data might lead to changes in our behaviours, every day. And so positively impact Singapore's sustainability agenda, and the planet.
This partnership between our education and operation sectors of the school is having such an impact on students, on our Facilities staff, on the sustainability of the school, on other schools and organisations in Singapore and in the long run on the planet. A ripple effect, from a data system.