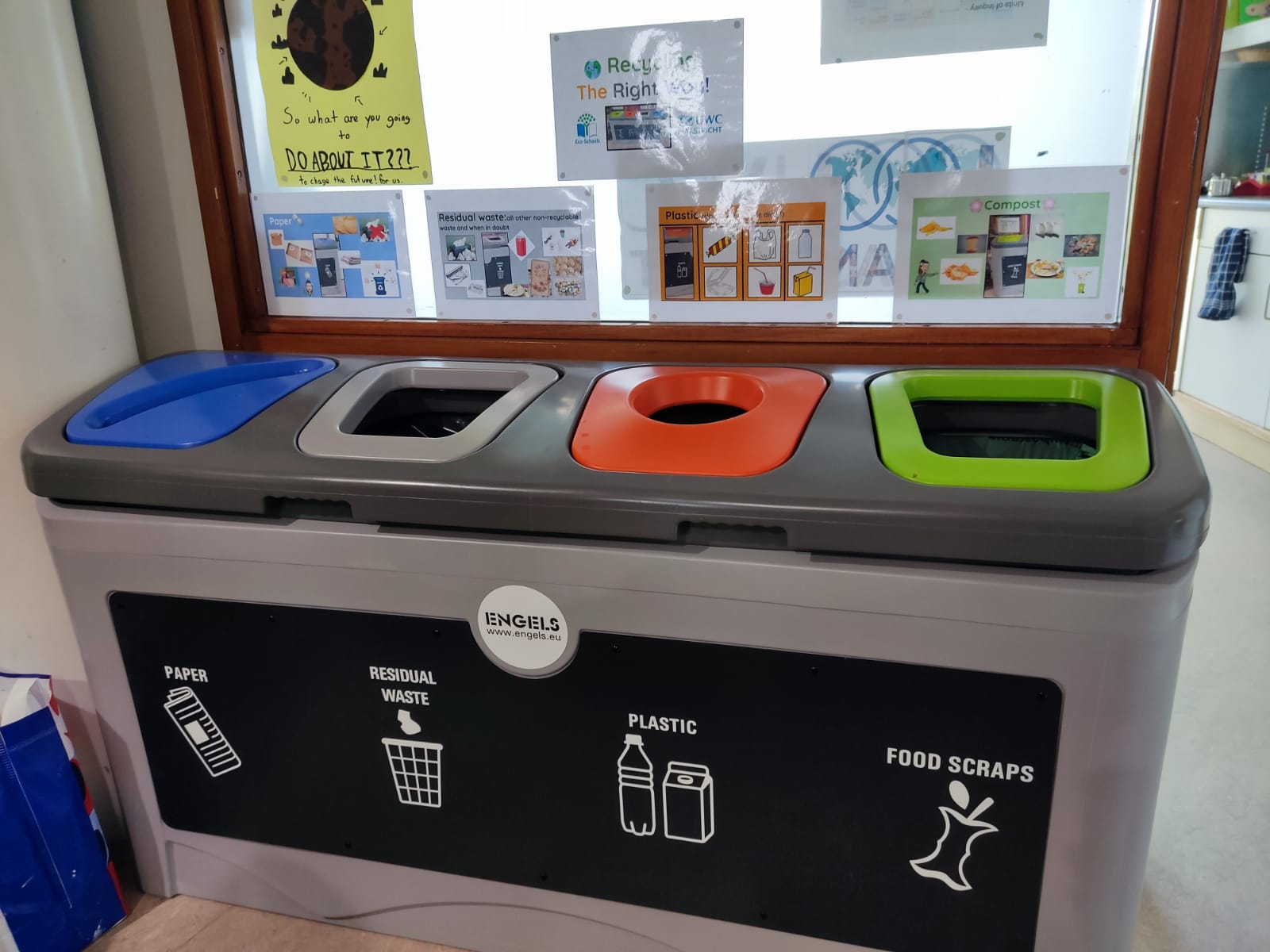 Overview
Waste Management at our school
Since 2020 the Eco-Team has set waste management as one of our school's focus eco-themes, with the initial ambitious goal of reducing residual waste by 50% by the end of 2022. By reducing the use of plastics in the school generally and single-use plastics in particular and organizing more effective waste collection systems on campus, we embarked on a bench marking mission. We visited schools and local universities, learning about their way to tackle the issue of waste. Our main identified challenges then were:
How to increase the community's knowledge and good practices for waste management to meet ambitious reduction targets

How to reduce the use of plastics in the school

How to improve the system of waste collection on campus
The measures implemented towards these goals as part of our action plan have included:
Increased number of waste separation workshops/training for continuing and new students and staff. We hope to deliver these workshops also for parents this school year!

A more thorough communication campaign on our school screens but also via the Director's newsletters for students and their families. This has included a

#zero-waste meals campaign to promote re-usable bottles and lunch boxes for students, refusing to use single-use plastics and encouraging local produce.

A campus-care team and a residential facilities coordinator that also oversee the waste in the residential area of campus.

Introduction of new waste separation stations per school floor (bins have been removed for non-technical classrooms but remain in science labs and design technology or visual arts classrooms) in September 2022 for Secondary and February 2023 for Primary. 

Planning a more collaborative approach to waste management involving and cooperating with our cleaning company, catering company, students and staff generally.
Monitoring the waste separation weekly by the Primary School Council and students in the Eco-School Club as well as by the Environmental Action Group in Secondary.
At our school we now separate: glass, batteries, electronic waste, paper (and cardboard), plastic (includes drink cartons), organic waste (mostly food remains, tea bags) that is collected by local farms, coffee grounds used in the garden and residual waste (all other remaining or mixed materials, which includes also metals, then separated by the company that collects it). Torn or unusable clothes are often used by the design technology department, also reusing materials from musical productions or student projects. Canvases are usually also reused in the Arts department to reduce unnecessary expense and promote sustainability.
The Environmental Action Group is now considering collecting used oil from the residential floors in order to dispose of all those polluting liters in a safe way at designated supermarkets across the city.
We are still far from reaching our target but as a learning environment this is indeed a work in progress.